June is here, which means summer has officially arrived, bringing with it longer days, overflowing gardens – and the start of wedding season. If you're throwing a warm weather wedding this month, be sure to take advantage of the many bright, luscious summer flowers that are bursting into bloom. From roses to peonies, there's no shortage of stunning flowers to choose from for crafting your perfect wedding decor. When selecting your wedding flowers, get inspired with these June summer wedding bouquet ideas:
Citrus Kissed Bouquet
Sunsets are undoubtedly one of summer's greatest gifts. There's nothing like watching the horizon melt into stunning shades of yellow and orange as it gives way to a sparkling night sky. Bring the essence of this natural splendor into your upcoming nuptials with a bouquet inspired by colorful sunset hues. Our Citrus Kissed arrangement uses roses in stunning shades of coral and orange, yellow button mums, light yellow carnations and greenery to evoke the beauty of twilight in the summer time.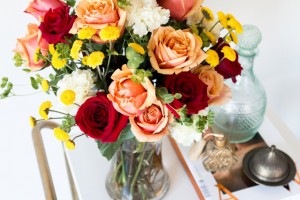 Pure Happiness Bouquet
It may sound like a cliche, but your wedding day is supposed to be one of the happiest days of your life! After all, you're committing to a lifetime of love with your soul mate – what could be more smile-inducing than that? Allow your joy to speak for itself with the Pure Happiness bouquet. This bouquet features one of summer's most beloved blossoms – sunflowers – alongside carnations, daisies, asters and fresh greens. Shades of red, gold and purple help set the tone for a colorful evening filled with love, laughter and plenty of pure happiness.